Happy Hump Day! Who doesn't love a good treat any day of the week but, when a particular Wednesday has you struggling to make it to Friday, you deserve a treat. Something that is just that right hint of sweet or savory, enough to reward yourself for making it to Wednesday but not so much that you'll spoil your whole diet.
Of course, not all "treats" necessarily need to be food. Here are some of my favorite hump day treats.
1) Coffee
It's the middle of the week, and you know there are two more days to go, so why not indulge a little with some delicious coffee to help get you through? But what kind of coffee is indulgent enough to motivate you through and satisfy your cravings?
Gourmet coffee is great for satisfying your sophisticated coffee needs and it'll give you a little pick-me-up.
Or you can try out the famous creamy and fluffy Dalgona coffee. If you have coffee, sugar, water, and a hand mixer, you can easily prepare delicious and strong Dalgona coffee.
If you love fraps, the sweet iced coffee, those are another perfect choice. Especially when blended with milk and espresso, you'll love the heavenly taste.
When talking about coffee, you can't forget lattes. The fine flavors of a latte can be various, and it just depends on your personal tastes. Mocha, vanilla, and peppermint lattes are all excellent companions for a hump day evening.
You may be alone in the comfort of your home or at the office with other people; you can have a delicious coffee to beat the dull feelings of hump day. Many good brands on the market, like Starbucks, will give you the fresh, smooth, and delightful coffee taste you're looking for.
2) Donuts
I bet that just the thought of donuts brings a smile to your face. Who can resist a sweet, soft, glazed donut?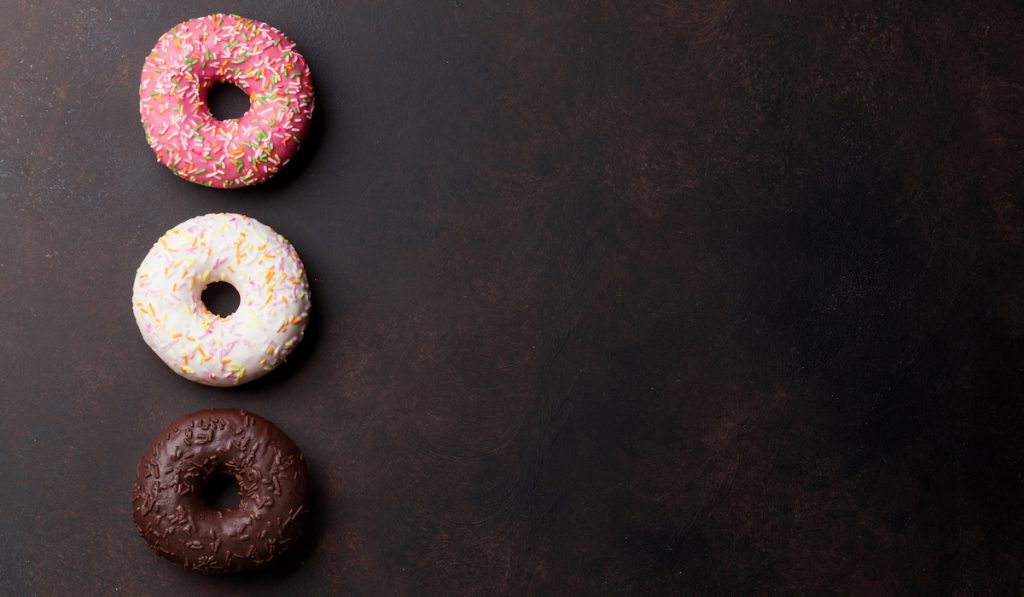 In fact, donuts will inspire the little baker within us and help us through a tough day with a smile.
You may think they are unhealthy, but you don't need to be a professional baker to bake some healthier donuts at your home. Most anyone can do it. You just need the correct recipe and appliances. Do your best to choose the healthiest ingredients to make it fit into your diet or lifestyle.
You can have a donut along with your morning coffee or afternoon latte, and the sweet treat will increase your energy levels. Also, did you know that some researchers say the donut and coffee combo can enhance your memory as well? I'd say that's a good reason to give this delicious combo a try!
3) Fudge
Fudge comes in many flavors so it doesn't matter if you love chocolate, Nutella, almonds, peanut butter, or coconuts; you can find your favorite flavor in a fudge. So, why not sprinkle some happiness on hump day with a tasty fudge.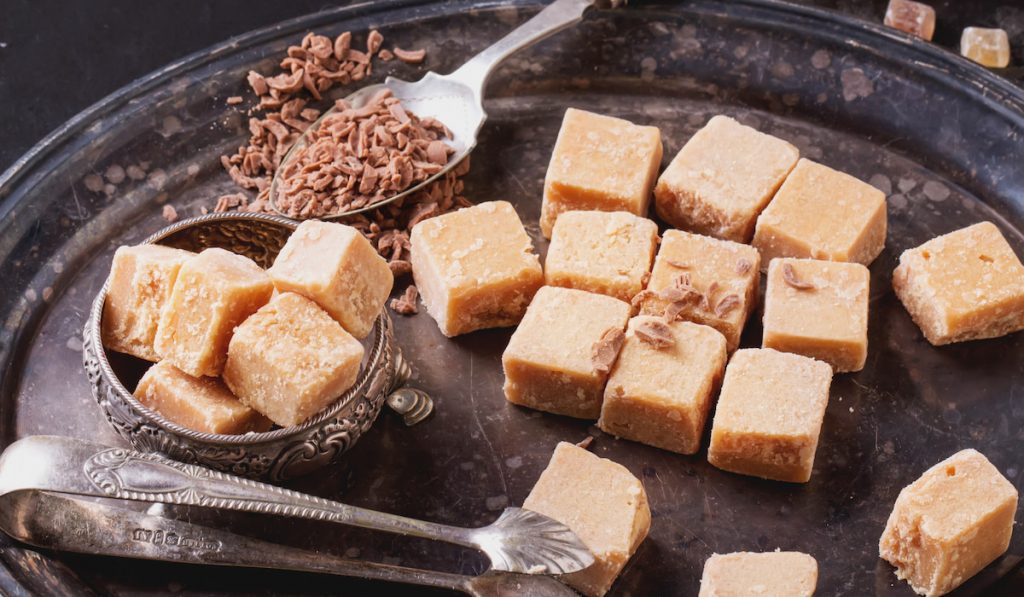 The most loved fudge of all time is chocolate fudge. The cocoa in it could give some extra health benefits such as regulating blood levels and reducing blood pressure.
There are dozens of good fudge recipes that are very simple; anyone can make it. You will probably find most of the ingredients right in your kitchen. So, be sure to make it healthy as well as delicious.
But, if you don't like the burden of cooking and cleaning and still fancy some fudge, you can just order your favorite fudge and share the joy with your best friend or someone you love and enjoy the day.
4) Frozen yogurt
You can easily satisfy your ice cream cravings with frozen yogurt. It's often considered a healthy alternative, and if you are a health freak or just trying to shed some weight, frozen yogurt is an excellent choice for a hump day treat for you.
While ice cream is made of cream, frozen yogurt is made of milk. That's the main difference between ice cream and frozen yogurt. The basic ingredients of frozen yogurt are milk, yogurt culture, and sugar.
It's very healthy as it contains probiotics, and if you are lactose intolerant, you can have this without any fear, as it only contains lower levels of lactose. Plus, it's lower in calories than ice cream. So, indulge your hump day with your favorite flavor. There are hundreds to choose from.
5) Going to happy hour with friends
We all know what it means by going to happy hour with friends, right? Yes, those can be some of the most wonderful and perfect memories to cherish. But it can be difficult to spend time together with our friends as we used to, due to the COVID-19 pandemic.
The world is not the same perfect one as we remember, and it has changed drastically the past few months. Sometimes our favorite bars or coffee shops may be closed, but does that mean we have to stop spending time together.
While social distancing plays a vital role in our day to day lives, have you consider hosting an online happy hour and getting the gang together?
You can easily have a video chat and enjoy your favorite wine together with your friends. There are plenty of perfect apps out there, such as zoom, Facebook messenger, Google hangouts, etc. All you have to do is pick a good app and schedule a time with your friends. You can even play card games, cook together, or work out together.
6) Buying a new book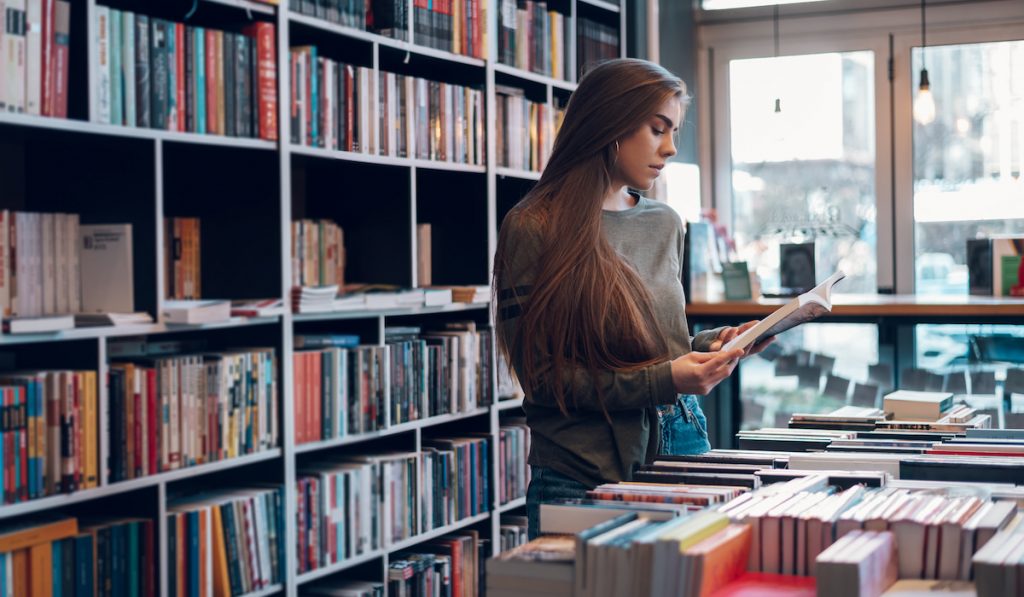 Imagine the heavenly combination of your favorite coffee and a new book. Reading could be one of your favorite things, but if you read or not, buying new books and shopping for books can give enormous pleasure.
Sounds ridiculous, right? If you are not reading them, why buy a new book in the first place? But we all get excited when we get to see some new book from our favorite author.
Basically, we have cravings for new books. We like to touch them, smell them. And some of us like to spend our evenings in our favorite bookshop, rather than spending time outdoors or shopping.
The people who get their mid-week boost amongst the pages of books can consider buying a new book from their favorite author.
7) Taking a walk in the park at lunch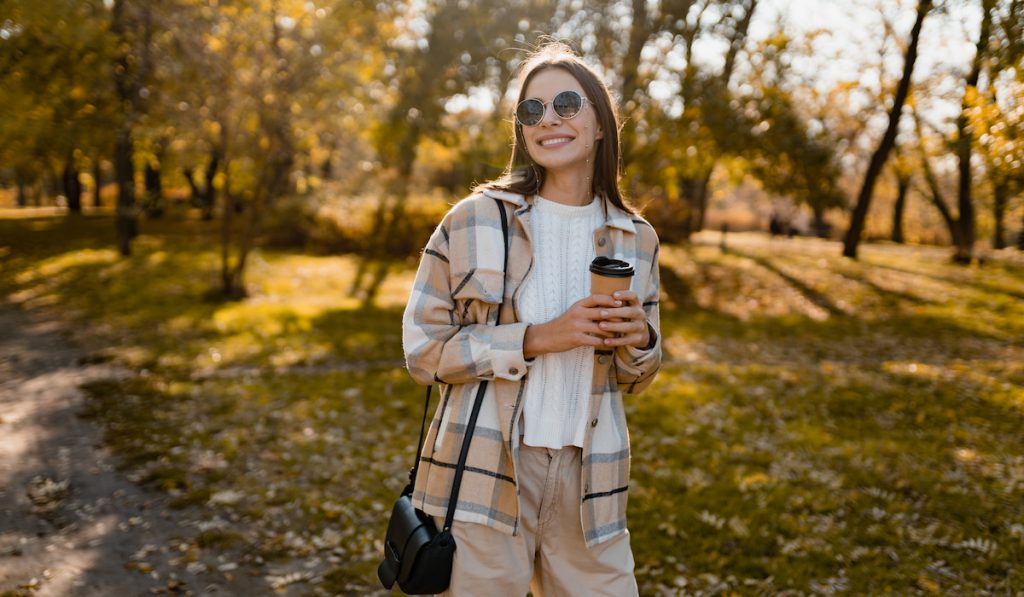 You may feel clumsy and bored sometimes, especially when you get the feeling that you have to work another two long days before the weekend. Have you considered walking a green mile at the park?
You can get many benefits and a boost in your mind by just walking 30 minutes during your lunch break. So, as you can see, there's still plenty of time left to have some delicious and nutritious lunch.
You can pair up with your co-worker and walk while having a nice little chat. Not only will it give you a good energy boost for the rest of the day, but it can also burn as many as 200 calories based on the speed you walk. So you will get the chance to lose some extra weight, too. Consider choosing a good route with fewer crossings and traffic.
Resources