In every part of the country, families grow up with different traditions for major events. Whether it is for the holidays, birthdays, and especially weddings. These traditions are passed down from mother to daughter, father to son, over many generations. The south is no different. Here are some common southern wedding traditions.
1. Outdoor Weddings
Families in the south are tight-knit and relatively large. Combine that with the wide-open spaces available in this part of the country and you can easily understand why outdoor weddings are popular in the south.
Depending on the area, there are usually a wide variety of options to choose from including huge grassy pastures, creek side fields, old wood barns with fabulous lighting and even properties with remnants of old stone houses no longer fully standing.
For those that don't have their own land or suitable property, there are tons of outdoor wedding venues in the south ready to host parties of almost any size.
2. Oversized Flower Bouquets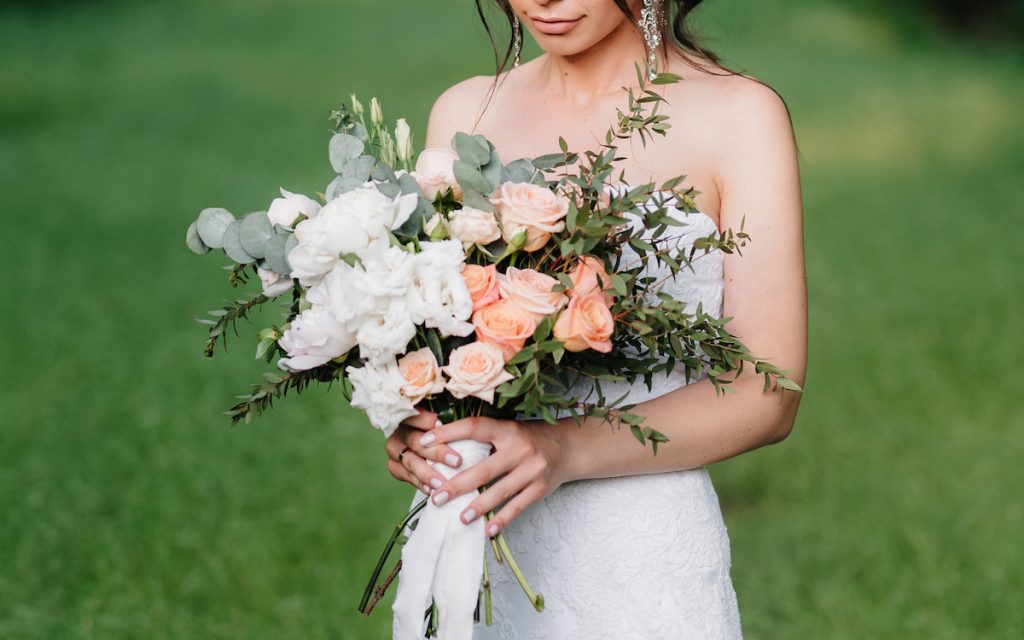 There are lots of things that are "bigger" in the south and the bouquet is definitely one of them. A popular southern wedding tradition is to have an oversized flower bouquet.
Large flowers and beautiful colors are commonly chosen by southern brides. Many flowers that bloom in the south have naturally large flower heads including sunflowers, hydrangeas, and gardenias.
A few large flowers mixed in with some greenery and baby's breath can make the perfect beautiful bouquet for a southern wedding.
3. Bury the Bourbon
Rain rain go away! Southern wedding traditions dictate that the bride-to-be and her groom bury a full bourbon bottle upside down at the wedding venue.
Doing so, tradition says, will help ensure rain won't ruin your beautiful outdoor wedding. The timing must be right though, the bottle must be buried exactly one month before the wedding day.
4. Grooms Cakes
Grooms cakes are becoming more and more popular, especially as cake decorating shows have shown the nation how fun they can be. Did you know that grooms cakes are actually a southern wedding tradition!
While it's clear that a lot of things at a wedding are there for the bride including the dress, flowers, wedding cake, etc. The grooms cake is a great way for the bride to suprise her groom with something specifically for him.
This cake will typically be highly decorated with items that specifically suit the grooms personality and interests. It's usually a big hit when it is revealed at an wedding!
5. Parasols for the Bride and Bridesmaids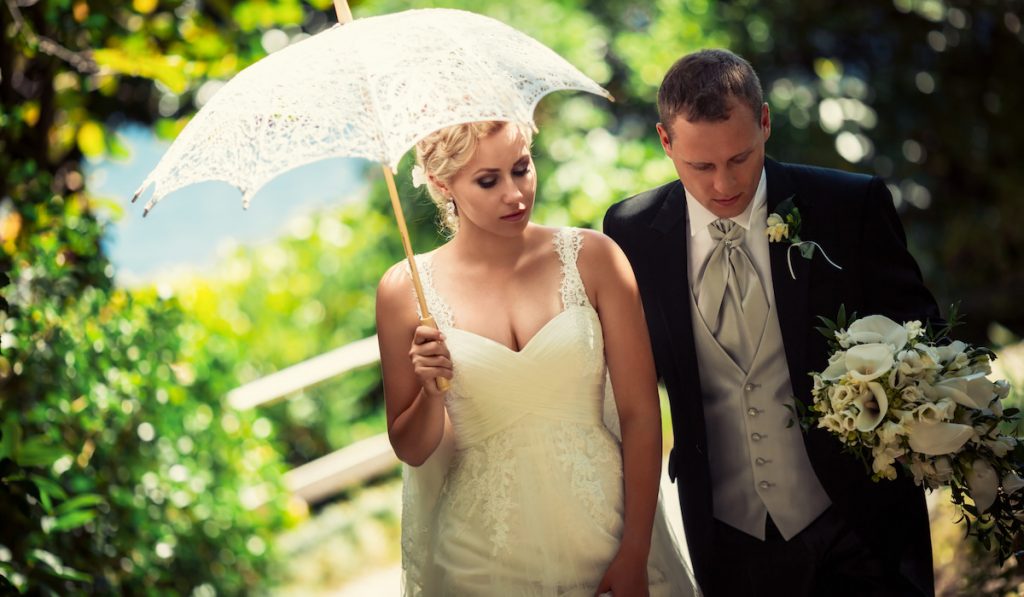 One thing that most know to be true about the south is that it is HOT. Combine that with a gorgeous outdoor wedding venue and things can heat up quickly for the bride and her wedding party.
Many brides opt for parasols for themselves and/or their bridesmaids to help keep the sun at bay and provide sweet shade.
Though, even when the sun isn't an issue, parasols are a throwback to the history of the south and often included anyway. They are so popular that a bride should have no trouble finding the perfect, feminine design for her bridal party.
6. Cake Pulls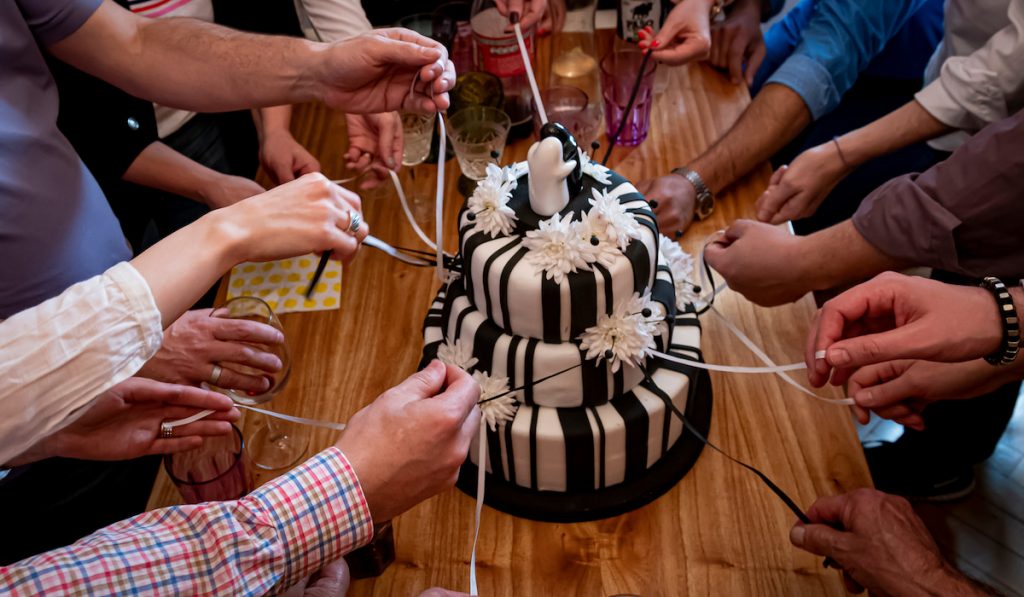 This southern wedding tradition has been passed on from the Victorian era whereby ribbons with small charms attached are baked right into the bottom layer of the wedding cake.
On the big day, the bridesmaids and other single women in the wedding party will pick a ribbon and pull it out from under the cake. Whichever charm is attached will have some symbolic meaning.
A baby bottle, for example,, might mean that the lucky lady is soon to have a beautiful surprise. Pulling the cake charm might symbolize that a bridesmaids own wedding may be coming soon.
Of course, it's all in good fun and definitely a highlight of the reception!
7. Southern Food
When people think of qualities of the south, good southern food is one of the things that are at the top of the list. From baking to barbeque people in the south know what good food is and how to make it.
A southern wedding is the perfect time to bring together the bride and grooms favorite southern food options and share them with their guests.
A wedding isn't a proper wedding in the south if the guests leave hungry!
8. Mason Jars
Farmhouse style interior design has popularized the use of mason jars for home decor but did you know that they have been common at southern weddings long before they started showing up on HGTV and the like.
Canning is a popular pastime in the south, a skill that is passed down from generation to generation. That means that mason jars, too, have their role in southern culture.
What better way to decorate a wedding than with the perfect simplistic elegance of a clear glass mason jar. They go with everything, are easily decorated and easy to come by.
It makes a great statement and can even make great gifts for the wedding guests and bridal party.
9. Perfect in Pearls
While the diamonds are often the most photographed jewels at most weddings, in southern weddings, the pearls are right up there too.
Pearls are a beautiful wedding day accessory often worn by the brides and bridesmaids. They are even used as decorations. You might find pearls draped on the centerpiece of tables, decorating the aisle, and even wrapped around a wedding cake.
White is the most common color but, soft pink pearls make great wedding accents as well. Real, fake, or edible, you are almost certain to see pearls at a southern wedding.